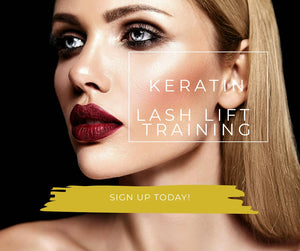 Ready to take your lash skills to the next level? Look no further than Yumi Lashes, the best lash lift training in the world, proudly made in France! 🇫🇷
Our online training program is designed for students like you who are eager to learn the art of lash lifting from the comfort of your own home. With our comprehensive online curriculum and expert guidance, you'll gain the skills and knowledge needed to excel in the lash lift industry. 💻
What is included with your course:
The professional kit provides approx. up to 30 procedures

Step-by-step Video 

Training Manual

Certification

Post-training support
COURSE CONTENT 
The course leads off with a preparatory initiation class to the YUMI brand, product, methods, and regulation. 

Practice and hands-on application, with feedback and corrective guidance 

Live model to be performed on, gathered by student

Summary and revision of course materials

Final assessment; submitted photos of completed work during course length
You will be contacted by our training coordinator to schedule your training date.
Cancellation policy - ONLINE LASH LIFT TRAINING:
We have implemented a cancellation policy to ensure that we only receive registrations from those who are certain that they wish to move and become a YUMI Lashes technician and to deliver the highest quality of education and standards.
*Please note - there are no cancellations or refunds for the ONLINE training. *There are no exceptions.
*In the case of an emergency, you will be allowed to reschedule your class 1 time - a $159 fee will be applied.
The full balance is due 10 business days before the start of the class.