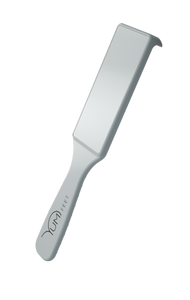 Duo Feet Device
THE DUO FEET DEVICE IS A UNIQUE
INSTRUMENT AVAILABLE ONLY AT YUMI FEET
Essential supplement of the De Si Jolis Pieds, it has two functions thanks to its two sides.
The scraper side gently removes the softened callosities in a painless, safe and fast way after the application of the patch.
A smoothing side, with an adaptable & disposable smoothing foot file sticker, completes the work of the scraper by erasing the rest of the callosity.